Industry by the Numbers
Atlantic Salmon and Steelhead Trout
Atlantic salmon is the major commercial salmonid species in Newfoundland and Labrador. In 2016, there were 88 commercial salmonid site licences, covering a combined area of 2,500 hectares. In 2016, salmonid production increased significantly to 25,411 tonnes, valued at $263 million. This represents a 29.1 per cent increase in production volume and a 76.9 per cent rise in market value compared to 2015.
Blue Mussels
In Newfoundland and Labrador, the blue mussel is the main commercial shellfish aquaculture species. Production volume for 2016 for shellfish was 3,211 tonnes, representing a 2.6 per cent change over 2015. Market value was up 5.6 per cent to $13.6 million. In 2016, there were 53 commercial shellfish site licences that covered a combined area of 4,403 hectares.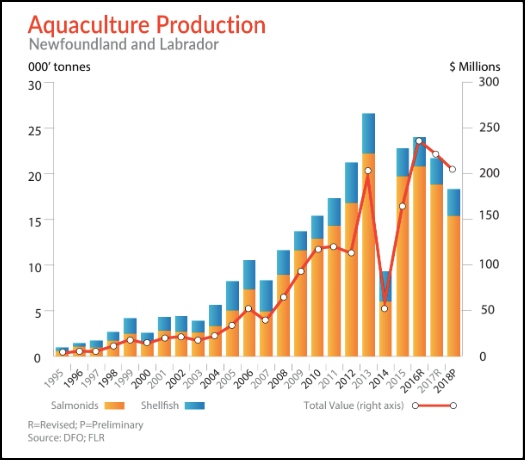 Aquaculture production statistics are published annually by the provincial Department of Fisheries, Forestry and Agriculture, Government of Newfoundland and Labrador.